The Implant Center
Integrated Implantology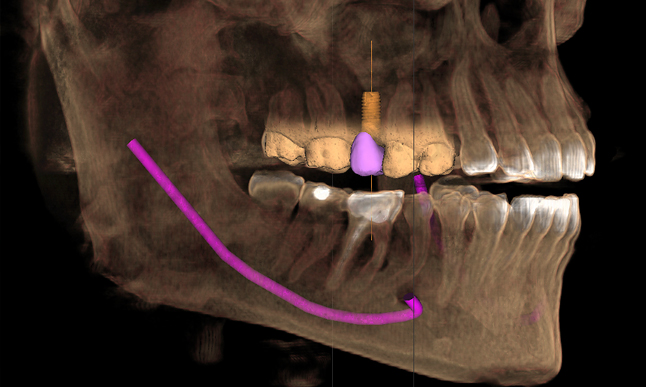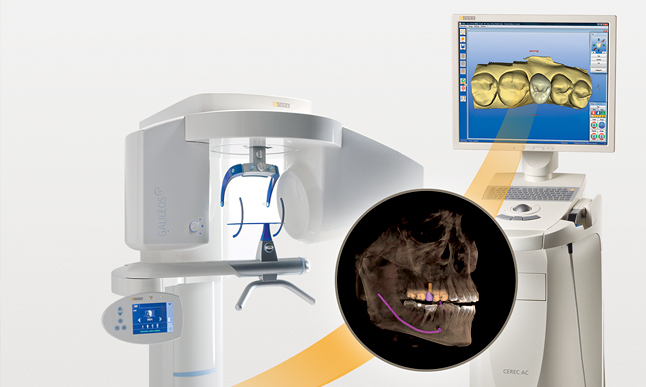 Our integrated implant planning and treatment solutions are tailored precisely to each individual patient. New advancements in technology allow for seamless integration between the 3D x-ray of your jaw, implant placement software and 3D renderings of your final restoration. Knowing exactly what the final restoration is going to look like and where it will be placed allows for specific positioning of your implant for a reliable and predictable outcome.
Some Advantages include:
Minimized treatment risk
Reliable results
Outstanding, patient-specific aesthetics
 Implant Placement and Restoration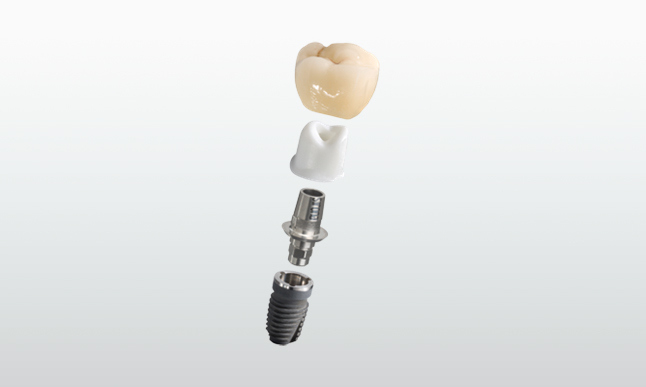 Dental Implants are titanium posts that replace natural tooth roots and support prosthetic teeth (crowns, bridges). The implants are placed in the bone under your gums. During a healing period, the bone grows around the implant. Then, a replacement tooth (crown) is made and attached to the metal post, giving you a restoration that is very much like your natural tooth. Implants can also be used to secure bridges and dentures when more than one tooth is missing. Dental implants allow for the replacement of missing teeth without grinding on good teeth. Dentists agree that a tooth often begins a downward spiral after being touched by a dental drill for the first time.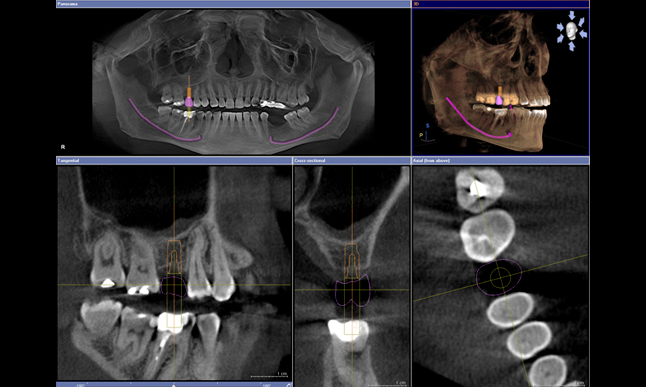 With the advent of dental implants, many conventional procedures are becoming outdated. For decades the dental profession has advocated the preservation of natural teeth and natural tooth structure. This concept is certainly upheld when using dental implants for tooth replacement. The need for removal of healthy tooth structure (enamel) has been eliminated by dental implant treatment. Several studies on crowns and bridges on teeth found an average 9-10 year life expectancy. Conversely, it is well documented that dental implants last for decades. Until about 1985 our choices for tooth replacement were poor, at best. Since implants have become the "standard of care" for tooth replacement our choices have improved dramatically. Implant overdentures offer all the benefits of traditional dentures with added security, comfort, and ease. Your dentures are held in place by attaching firmly to dental implants. Implant overdentures eliminate the need for messy adhesives.
FAQs
How much will it cost?
No two patients or their customized dental implant treatments are exactly alike, so the number of appointments, procedures and cost varies accordingly. After an initial appointment and assessment, we will provide you with a treatment plan including the estimated number of appointments and cost, and then notify you if there are any changes during the process. There is no hiding the fact that dental implants can be expensive but they may be more affordable than you think. Single tooth dental implant treatments range from $1500 to $7500.
Mini implants cost around $600-$900; however, their uses are limited.  Beware that mini implants show predictability only when used under certain circumstances and are rarely the ideal choice.  It is important to discuss this with your doctor before choosing to have mini implants placed.
Will my insurance pay for my implants?
More insurance companies are covering dental implants today than they ever did before. In many cases, your insurance can help pay for the teeth that are placed on the dental implants, if not the implants themselves. You can call your dental and medical insurance providers and ask if dental implants are a covered procedure.
Will it hurt?
Most dental implant procedures involve less discomfort than a tooth extraction. When we see patients for follow up visits, most of them tell us how surprised they were with how little discomfort they had! (TRUE!) Our office is equipped with doctors and staff trained to safely provide conventional methods of anesthesia.  We also have Special Anesthesia Services available to offer intravenous sedation anesthesia options. Operative procedures will seem both pleasant and brief when effective anesthesia is applied.
How long will it take?
Implant treatments range from the immediate replacement of an extracted tooth to over six months when jaw surgery and bone grafting is needed. The average treatment is three to six months. Most of the time required to complete implant treatment is taken up just waiting for the bone to fuse completely with the implant. This usually takes a few months and goes on below the gum line without any feeling or awareness. In more complex cases treatment may be longer.
Will I be without my teeth?
During the initial healing period, dentures or partials can be worn over the implants while they mature. The temporary teeth will be made prior to the removal of the existing teeth in cases where tooth removal and implant replacement is required.
Are dental implants as strong as natural teeth?
Yes. In many cases, implants are actually considered stronger than natural teeth and provide full functionality. After treatment, patients will be able to enjoy all of their favorite foods while benefiting from healthy, aesthetically-pleasing prosthetic replacement teeth.
What are the benefits of implant dentistry?
Because your teeth affect everything from your smile and confidence, to your ability to eat, speak and participate in the activities you enjoy, and because there is no better option to restore missing teeth, dental implants are an investment well worth considering.
Some benefits include:
Enhanced ability to chew your food.
Replace removable full and partial dentures with fixed bridgework.
Improved appearance. Increase in self-confidence.
Prevent further bone loss.
How successful are dental implants?
Implants have been successfully placed since the 1950's. With ongoing technological advancements and more durable implant materials, ten-year success rates have been reported at 93 percent or better.
Is treatment available for failed implants?
Although implant failure is uncommon, it can occur. In these cases, the failed implant can be replaced with another.
Am I a candidate for dental implants?
Anyone who is healthy enough to undergo a tooth extraction is likely a suitable candidate for dental implants. However, these are certain contraindications that may complicate or prohibit implant treatment. Patients with certain conditions, such as chronic diseases, heavy smoking or alcohol abuse may not be candidates for implants. Your doctor will determine whether or not this treatment is right for you after a complete physical exam and evaluation of your medical history.
Is age a factor?
No, there are no age restrictions for dental implants.