Cosmetic Procedures

We approach every case as though it is a cosmetic dentistry case. See our gallery of work, listen to our testimonials or read below to see what all is available.
---
Teeth Whitening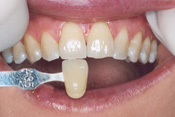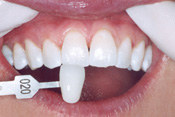 Your teeth will darken over time. Changes in the color of your teeth can be caused by such factors as the food and beverages consumed (like coffee, tea and soda). Other known factors for discoloration may include childhood medications or illnesses, tobacco use or improper oral hygiene. Restoring your natural white smile is a priority for our dental whitening team. We can provide a variety of options for whitening your smile.
Tooth whitening services are growing in popularity, and it's one of the most requested services offered by our practice. Everyone sees the growing consumer market focused on whiter teeth. The reality is that over-the-counter, "too good to be true" solutions typically don't work.
Our goal is to meet the needs of every patient, and every patient's needs are different. One of the methods used by our practice is a gentle hydrogen-peroxide gel-activated solution. This process will whiten your entire smile in one visit. Call us today for a whitening evaluation.
Nothing improves your appearance more than a Bright, White SMILE!
---
Traditional and Invisible Braces
The Straightest Way to a Great Smile
Invisalign straightens your teeth without wires and brackets, using a series of clear, customized, removable appliances called aligners. It's virtually undetectable, which means hardly anyone will know that you're straightening your teeth.
Clearly Different
The Invisalign System combines advanced 3-D computer graphics technology with 100-year-old science of orthodontics. Invisalign aligners are designed to move your teeth in small steps to the desired final position prescribed by your orthodontist. Each aligner is precisely calibrated and manufactured to fit your mouth at each stage of the treatment plan. Your first step is to visit our office to determine if Invisalign is right for you. After sending precise treatment instructions, Invisalign uses advanced computer technology to translate these instructions in a sequence of finely calibrated aligners -- as few as 12 or as many as 48. Each aligner is worn for about two weeks and only taken out to eat, brush and floss. As you replace each aligner with the next, your teeth will begin to move gradually -- week-by-week until the final alignment prescribed is attained. Then you'll be smiling like you never have before!
To ensure the best possible results, only an dentist who has been trained and certified by Align Technology can diagnose and treat using Invisalign. Invisalign is not intended for children and is not appropriate for every adult. To see if Invisalign will work for you, contact us.
---
Lumineers
Lumineers™ can make everyone's smile more beautiful without painful removal of tooth structure. Lumineers™ are a painless, long-term cosmetic solution for stained, chipped, discolored or misaligned teeth. Lumineers™ are porcelain veneers that can be made as thin as a contact lens and are placed over existing teeth without drilling or requiring removal of tooth structure, in most cases (unlike traditional veneers). And in most cases, no anesthetic shots are needed!
Lumineers™ are almost as natural as your real teeth. You should continue visiting your dentist regularly for cleanings and checkups and also continue a good oral hygiene regimen. You can continue eating and drinking everything you normally did before the procedure!
Contact us for more information on Lumineers™ and how they can improve your smile!
---
Veneers
Veneers are thin, semi-translucent porcelain "shells" bonded to your teeth.
Common problems that veneers are used for:
Spaces between the teeth
Broken or chipped teeth
Unsightly, stained or discolored teeth
Permanently stained or discolored teeth
Crooked or misshapen teeth
Veneers are a great aesthetic solution to your smile that may even help you avoid orthodontic treatment. Subtle changes to your smile can be achieved with veneers, and in most cases, veneer application is completed in only two office visits.
Please contact our office if you have any further questions on veneers.