Stabilizing Dentures

Eliminate Loose Dentures
Millions of people around the world are missing enough teeth to require the use of a denture. Many of them struggle to keep their dentures secure,  particularly in the lower jaw. If you have this problem, you already know about the embarrassment of slipping dentures, not being able to eat the foods that you love and the problems with denture adhesives. Ask your dentist how to restore and maintain your natural smile with implant supported dentures.
Restore your confidence
Too many people who have conventional dentures don't wear them for the simple fact that they don't stay in place. Dental implants offer a way to keep dentures in place and allow you to go about your daily life with confidence. The use of implant-supported dentures has been successful for hundreds of thousands of people. The number of patients treated continues to grow as word spreads about the effectiveness and long-term durability. In fact, dental implants are reported to have the highest success rate of any implantable surgical device.
---
Denture stabilization benefits
restores proper chewing, allowing a better diet and improved health
improves speech and confidence
increases comfort with less irritation of gum tissue
---
In the past, people missing all of their teeth were limited to two options: bare gums or dentures.
---
The Disadvantages of Bare Gums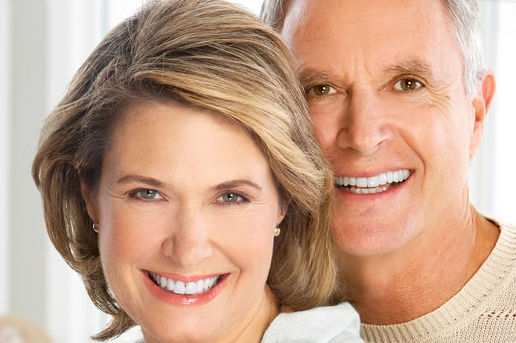 A collapsed face
Extreme difficulty eating and speaking
A physical appearance that makes a person look 20-25 years older
Self-esteem and quality of life issues
---
The Disadvantages of Dentures
The disadvantages of dentures are also numerous:
Dentures are uncomfortable, often painful and do not look natural
Some denture adhesives contain zinc which can cause neurologic problems
Denture wearers have limited taste sensation
People with dentures often suffer with bad breath
Dentures must be removed during most hospital visits and medical appointments
People with dentures have to be very careful what they eat, and can rarely eat anything crunchy or chewy
Self-consciousness during intimate moments
---
The Advantage of Dental Implants
A dental implant-supported bridge is far superior to bare gums or dentures:
Re-establishes lost lip support and therefore minimizes the appearance of wrinkles; no more marionette lines or witches chin
Preserves the remaining bone and maintains the integrity of the facial structure
Eliminates the need for dangerous adhesives
Eliminates the pain caused by ill-fitting dentures
Helps restore natural chewing capacity because of increased stability
Maintains mouth function, including the roof of the mouth, so foods can be fully tasted and enjoyed and you can feel hot and cold differences
Allows you to eat what you want, when you want, where you want
---
Dental implants from The Implant Center at Gentility are used to attach a fixed bridge to the jaw. These implant-retained bridges are a major improvement in fit and function over removable dentures. The biting force is 70% greater than those of dentures, too! Dental implants form the natural tooth root system needed to strengthen and improve the force of a bite. And that means dental implant patients are allowed a wider variety of foods to eat which, in turn, leads to healthy diets, confident smiles and overall improved quality of life. Imagine the food you can eat again!