Gum Therapy

Unfortunately, periodontal-related problems are often discovered after they have persisted for an extended period of time. Proper oral hygiene, daily dental care and regular dental checkups will minimize the risk of gum disease. Gum disease ranges from mild (gingivitis) to moderate (periodintitis) to the severe (periodontitis). Treatments are available for every case of gum disease.
Common problems associated with gum disease:
"Long" teeth (receding gum lines expose the root portions of your teeth)
Discolored or deteriorating tooth structure
Gum depressions (holes in between the teeth in the gum tissue)
Infected gum line (discoloration or inflammation of the gum tissue)
Tooth loss or tooth movement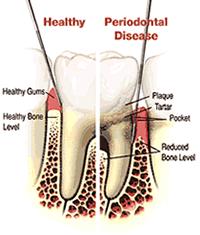 The effects of gum disease can be damaging to your dental health. However, through proper preventive care and oral hygiene, you can avoid problems associated with gum disease.
The latest research shows an outstanding improvement in the outcomes of gum (periodontal) treatments when using lasers.  Instead of the old "scaling and root planing" which was as uncomfortable and medieval as it sounds, you can now achieve even better results with laser assisted gum therapy. Without the need for aggressive scaling of the tissues that was previously thought to be the best treatment, the pain and discomfort is nonexistent. Using lasers not only aids in the comfort during and after treatment, but has shown better results including the repair and laying down of new bone previously thought to be impossible without grafting!
At our office, we use laser assisted gum therapy on every patient who needs therapy and continue to use the laser at follow up visits for years to come.  This not only helps stop the progression of disease but helps stimulate bone regrowth for our patients.
Please contact our office for a periodontal evaluation.
---
Brushing
Use a toothbrush with soft bristles and a small strip of fluoride toothpaste. When you brush your teeth, move the brush in small circular motions to reach food particles that may be under your gum line. Hold the toothbrush at an angle and brush slowly and carefully, covering all areas between teeth and the surface of each tooth. It will take you several minutes to thoroughly brush your teeth. Brush up on the lower teeth, down on the upper teeth and the outside, inside and chewing surface of all of your front and back teeth. Brush your tongue and the roof of your mouth before you rinse.
Brush your teeth four times daily to avoid the accumulation of food particles and plaque:
In the morning after breakfast
After lunch or right after school
After dinner
At bedtime
As soon as the bristles start to wear down or fray, replace your toothbrush with a new one. Do not swallow any toothpaste; rinse your mouth thoroughly with water after you finish brushing. It is important to carefully floss and brush daily for optimal oral hygiene.
---
Flossing
For areas between the teeth that a toothbrush can't reach, dental floss is used to remove food particles and plaque. Dental floss is a thin thread of waxed nylon that is used to reach below the gum line and clean between teeth. It is very important to floss between your teeth every day.
Pull a small length of floss from the dispenser. Wrap the ends of the floss tightly around your middle fingers. Guide the floss between all teeth to the gum line, pulling out any food particles or plaque. Unwrap clean floss from around your fingers as you go, so that you have used the floss from beginning to end when you finish. Floss behind all of your back teeth.
Floss at night to make sure your teeth are squeaky clean before you go to bed. When you first begin flossing, your gums may bleed a little. If the bleeding does not go away after the first few times, let a staff member know at your next appointment.